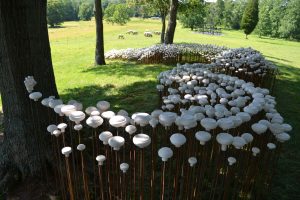 Great Meadows Foundation is pleased to announce the award of 18 grants to artists in the Kentucky region through the Artist Professional Development Grants program. Supporting artists from across the state, the grants will enable recipients to travel to visit conferences, major exhibitions, and biennials, and to connect with professionals in the field whose expertise can help them develop their practice.
Grantee artists in this cycle are: Alex Adams, Louisville; Becky Alley, Lexington; Leticia R. Bajuyo, Madison; Jarrod Becker, Erlanger; Sabra L. Crockett, Louisville; Devin French, Louisville; Garrett O. Hansen, Lexington; Joanna Thornewill Hay, Frankfort; Joshua Jenkins, Louisville; Jessica Bennett Kincaid, Louisville; Joel McDonald, Louisville; Gary Mesa-Gaido, Morehead; Robert J. Mitchell, Louisville; Cynthia Norton, Louisville; Sunny Ra, Louisville; Josh Richards, Versailles; Scott Soeder, Louisville; and Jenny Zeller, Louisville.
Grantees were selected with the advice of an external reviewer, a professional in the field from outside the region. The amount of support given in the 18 grants totals $43,600.-, with individual awards ranging between $1,240.- and $4,000.-. Grantee artists will be enabled to travel to American cities like Boston, Chicago, Los Angeles, New York, Portland (OR), and Washington DC as well as to Canada, England, France, Italy, Germany, Greece, and Iceland, in pursuit of their proposals.
The ambition of Kentucky's contemporary artists and their desire to more actively engage with people and events in the national and international scene has secured the continuation of the Artist Professional Development Grant program, which now accepts applications three times  a year. The next cycle deadline is March 19, 2017, for travel in the period May 3 to October 31, 2017.