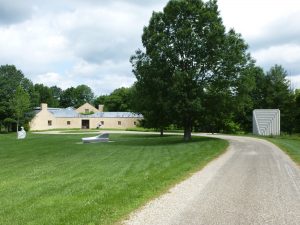 Great Meadows Foundation is pleased to announce the award of 19 grants to artists in the Kentucky region through the inaugural cycle of the Artists Professional Development Grants program. Supporting artists from across the state, the grants will enable recipients to travel to visit conferences, major exhibitions, art fairs and biennials, and to connect with professionals in the field whose expertise can help them develop their practice.
Grantee artists in this inaugural cycle are: Kayla Bischoff, Louisville; Mary Carothers, Louisville; Dave Caudill, Louisville; Valerie Sullivan Fuchs, Shelbyville; Brian Harper, New Albany; Kenneth Hayden, Louisville; Jacob Heustis, Louisville; Amira Karaoud, Louisville; Jonathan McFadden, Lexington; Elizabeth Mesa-Gaido, Morehead; Neli Ouzounova, Bowling Green; Letitia Quesenberry, Louisville; Stacey Reason and Andrew Cozzens (collaboration), Louisville; Kristin Richards, Louisville; Nathan G. Smith, Louisville; Skylar Smith, Louisville; James Robert Southard, Lexington; Richard Sullivan, Louisville; and Sarah West, Mount Sterling.
Grantees were selected with the advice of an external reviewer, a professional in the field from outside the region. The amount of support given totals $40,768.-, with individual awards ranging between $1,000.- and $4,980.-. Grantee artists will be enabled to travel to American cities like Boston, Chicago, Las Vegas, Los Angeles, Miami, New York, and Pittsburgh, as well as to Cuba, Denmark, France, Mexico, Italy, Korea, UAE, and the United Kingdom in pursuit of their proposals.
Speaking about the inaugural program, Al Shands, founder of Great Meadows Foundation, says: "we are thrilled that Kentucky artists are so ambitious in terms of what they want to see, who they want to meet, and how they see these grants benefitting them." Julien Robson, Director of Great Meadows Foundation adds: "We received 36 very good applications for this inaugural program and are proud that, with these 19 grants, we will be able help a total of 20 artists fulfill travel projects that will expand their horizons, help them build new connections, and support their growth as artists."